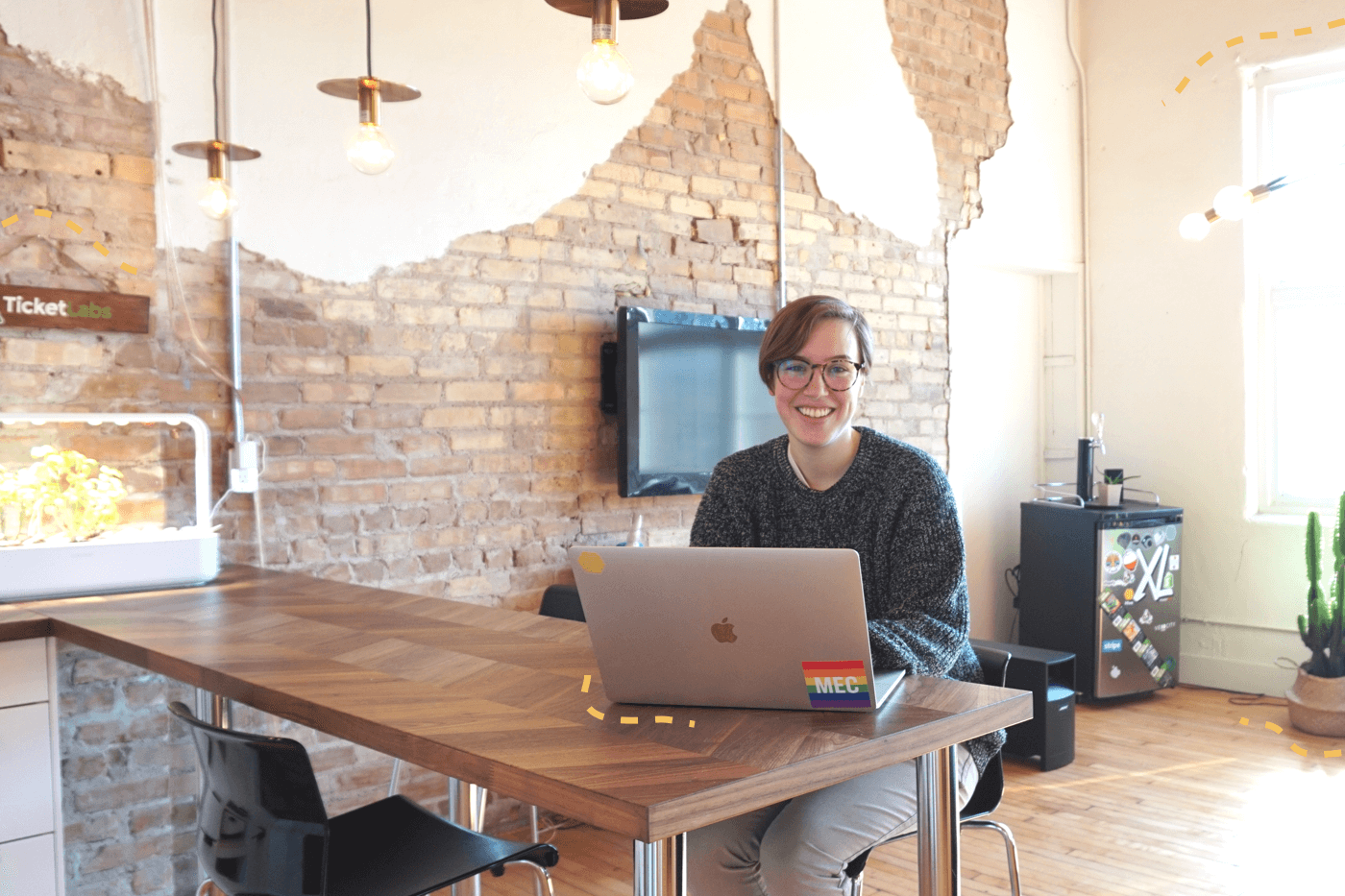 I'm Hannah, and I joined Hive two weeks ago as the third member of the dev team! I grew up in Halifax, Nova Scotia and moved to KW to study Management Engineering at UW. I finished my undergrad in 2017 and did a year of graduate school before starting work. Now, I live in Kitchener with my partner Liam and my dog, Peaches.
I'm here to talk about my first impressions at Hive, and my experience so far as a new hire joining the team! Hopefully this will give you some insight into Hive's culture, especially if you're thinking about joining the team too. Let's jump right in:
1) Respect and inclusivity are baked into the culture
For me, an inclusive workplace culture is a non-negotiable. I want to be part of a team that values differences, and is respectful and accommodating of them in every interaction.
As a non-binary person, navigating any new social setting is always nerve-wracking. No matter where I go, I have to come out, clarify that I use they/them pronouns, and often get met with an onslaught of questions that invalidate my identity. The minute I came out to the team, all of my nerves went away. Everyone on the team got my pronouns right away, and when I needed to correct them, they took it gracefully. This is in stark contrast to what I was used to, and made me feel immediately welcome for who I am.
Not only was my identity respected, it was also celebrated! On my second day I was given a pride sticker for my laptop, and we're already making some plans for some cool pride gear! 🏳️‍🌈
Hive doesn't display their commitment to inclusivity and diversity through a long winded jargon-filled diversity policy; they show it every day, in every interaction. Respect and inclusivity are deeply woven into the culture at Hive, and it shows.
2) Hive hires you for YOU
Interviewing for a developer job can be stressful and competitive, but at Hive it wasn't like that. They were interested in getting to know me as a person, hearing about my previous projects that I was excited about, and how I fit in with the team. The technical challenge was to see how I worked through problems and collaborated with the rest of the dev team, not to test my knowledge of algorithms and data structures.
During the interview process, I met with everyone on the team for at least an hour. Every meeting was different, but the one common thread was that each team member made an effort to get to know me as a person.
They didn't care that I wasn't a perfect fit for the job description. They cared that I was smart, passionate, and eager to learn and grow with the company. When I showed up for my first day, everyone was super excited to have me there.
3) Everyone on the team gets a say
Right after my first standup, I was taken out for coffee with the dev team. We started talking about our expectations right away, and the team made sure I knew that I could always speak up if something wasn't working. We set expectations for onboarding together, and I had ⅓ of the say over the onboarding process from day one.
I have a lot of teaching experience, so naturally I was immediately interested in helping to improve the onboarding process for the next developer. I bounced my ideas off the rest of the team on day one, and they let me run with it. I'm also someone who takes a ton of notes, though they're usually something I just use for myself. The team saw this as an asset, so I'm using my notes to build out an onboarding resource manual for future hires!
4) You are a priority
Every single person on the team has taken the time to meet with me and made sure I have what I need to be successful in my role. Even though everyone is really busy, they've taken the time to make sure I understand the codebase, and to pair through tasks to ensure I'm successful and can ask questions.
It's refreshing to be in an environment where the team is invested in their new hires. At every team meeting so far, everyone has checked in to make sure things are going well for me, and are always open to feedback about how the company can improve.
5) Good relationships are also a priority
We are a tight knit team, and there is a lot of emphasis on creating and developing relationships within the team. Everyone gets regular one on ones to talk about work, company vision, or sometimes just to talk. The team is great at making time for each other, and the willingness to do so makes asking questions and getting feedback a great experience.
The team also makes time to hang out outside of work. On my fourth day, we all went and did a Paint Night to just get to know each other better. I found that having the chance to spend time together outside of work made me feel like part of the team pretty much right away.
All in All, Hive is a Great Team
There you go - my first impressions of the Hive team and a recap of how my first two weeks have been. I hope this has given you insight into Hive's culture, and hope that you enjoyed getting to know me too! If you're interested in joining the team, we're currently hiring a Customer Experience Manager (check it out!).