How Moonrise Festival got 10,000 Hive Fans
Before this year's event, the team behind Baltimore's Moonrise Festival used Hive to create buzz, collect data, and push ticket sales.
In this case study, we share some of the results and learnings.
Numbers & Method

Partnering with featured artists, Moonrise used Hive's contesting tools to run 13 giveaways in the months leading up to the festival.
Fans entered to win free tickets, meet 'n' greets, and sponsor financed backstage parties. The contests were promoted on the event's Facebook and Twitter pages.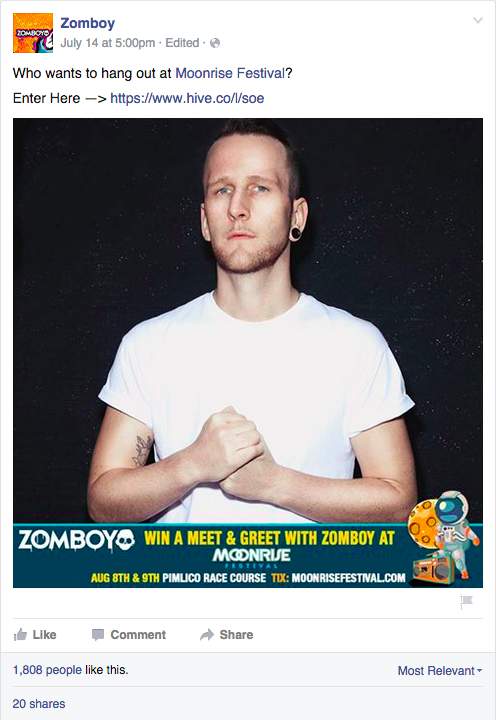 Moonrise incentivized fans to post about the festival on social media, by letting them gain extra contest entries for doing so. The staggering results can be seen above, and includes almost 30,000 shares on Facebook. We estimate that those shares generated >500,000 impressions on Facebook alone.
Custom Audiences
Of course, not all 10,000 hopeful entrants could win tickets, so the Moonrise team took the opportunity to run email campaigns towards them, knowing they were prime leads, already considering attending the festival.
An added benefit of letting fans enter a contest multiple times is the fact that you can use this engagement data to gauge the fans' interest in the product. A fan who tweets, posts, likes, follows and jumps through other hoops, to win tickets, is likely to have her heart set on attending the festival. This makes for a great way of prioritizing which fans you'll target with marketing given a limited budget.
On Facebook, Hive helped out the team and used the collected Facebook User IDs to run boosted posts and ads towards fans who entered. 
Other Insights
On top of the marketing results, the team also gained a few valuable insights into their audience.
One surprise was that the gender distribution among the entrants was an even 50/50 split — very atypical for a bass-centric festival.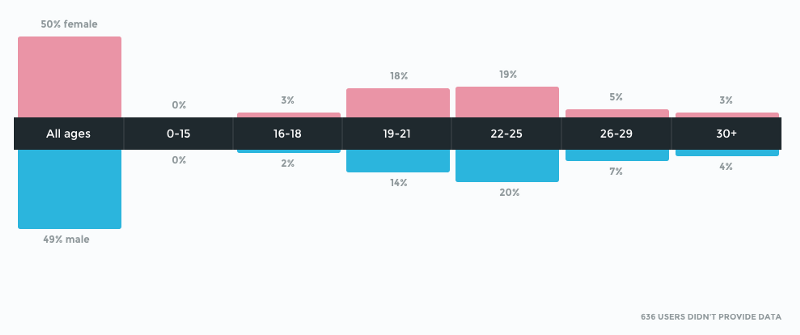 The team also confirmed the musical tastes of their audience: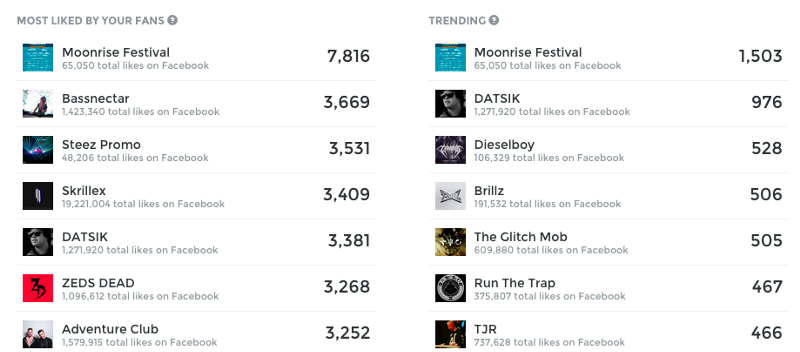 (luckily, they all like bass).
Hive also provided insights into which brands the Moonrise fans are most engaged with across Facebook, Twitter & more - which Moonrise will use to identify and negotiate better sponsorship deals next year!
Future Events
Moonrise Festival is run by Steez Promo, a promotions company that runs hundreds of events, every year.
By using Hive to promote Moonrise, Steez has collected millions of data points on over 10,000 of their most engaged fans. They know where these people live, which ones are their biggest online advocates, and which individuals have the most purchasing power.
Steez is already using these insights to remarket to the right fans for their future events. Hive shows Steez the subsets of fans most likely to attend each event, and helps them target them with more personalized email campaigns, Facebook advertising, and more.
By continually running campaigns to identify new fans, Steez is building a powerful data set that they're using to own the relationship with their customers.
---
Thanks for reading! Please shoot us an email, and let us know if you found this case study helpful (or if it sucked!).